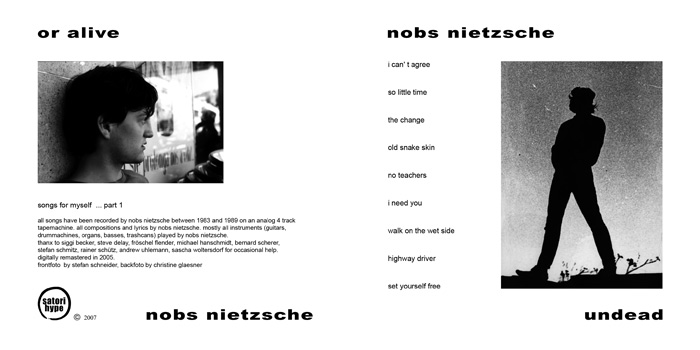 DOWNLOAD ONLY FOR PRIVATE USE
2007, COPYRIGHT BY SATORI HYPE RECORDS
Nobs Nietzsche – undead or alive
songs for myself … part 1
01 – I can't agree
02 – So little time
03 – the change
04 – old snake skin
05 – no teachers
06 – I need you
07 – walk on the wet side
08 – highway driver
09 – set yourself free
click tracks above to download the single files
or click

Nobs Nietzsche/undead-or-alive.zip (28 MB)
to get the whole album including coverart.
for those who don't like 128Khz mp3: you can purchase the CD-R @ the Satori Hype Mailorder.
LABEL INFO:
all songs have been recorded by nobs nietzsche between 1983 and 1989 on an analog 4 track tapemachine. all compositions and lyrics by nobs nietzsche. all instruments (guitars, drummachine, organ, bass, harp, trashcan) & voices performed by nobs nietzsche. thanx to siggi becker (guitarlicks on "No Teachers"), ralle (drums on "I need you")
"Undead or alive" is a release that's coming too late and won't fit at all in the overall musical context of Satori Hype Records. It's vintage 80ties music from a time when nobody made self titled releases but a few cassettes. Folk'n'roll over cheap beatboxes, Robby-Krieger-like-guitars, thumb-sketched songs with rockstar attitudes. Recorded in a bedroom. It is subtitled with "Music for myself".
nobs nietzsche has been the younger appearance of the artist we know today as fatagaga.
digitally remastered in 2005.
foto on front by Stefan Schneider, foto on back by Christine Glaesner
> Order the CD-R directly via
> get the Nobs Nietzsche-BOX /3 CDs / COMING SOON
> back to discography