shr-cd011 _ 2006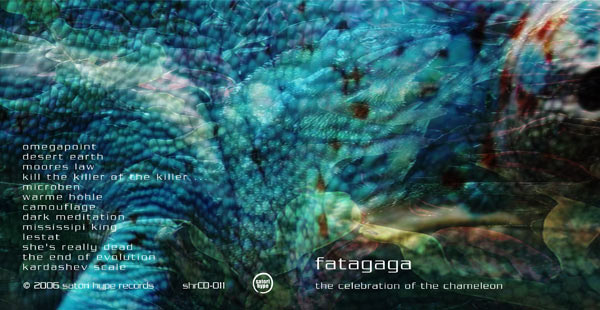 01 – omegapoint >>
02 – desert earth >
03 – moores law* >
04 – kill the killer of the killer … >
05 – mikroben** >
06 – warme höhle** >
07 – camouflage** >
08 – dark meditation >
09 – mississipi king >
10 – lestat >
11 – she's really dead >
12 – the end of evolution >
13 – kardashev scale >>
> (click for 1 min prelistening)
> > (click for full lenght mp3)
price for the CDR is without postage, here you can calculate shipping (you can do it after collect all you want)
——-

LABELINFO:
fatagaga about "The celebration of the chameleon":
"This record is inspired by some persons out there who put forth the proposition, that a technological singularity will change everything we know very soon. Our world changes faster and faster. Technological developement will replace biological evolution. Maybe the spirit beyond the known world is a chameleon who likes movement, surprises, leaps in the dark … so, don't panic about the blue planet, the future in outer space is bright."
Atmospheric inscapes, covered in warm blankets. Sounds like a long deep breath or a self-induced organic vibration. Moaning, howling and murmuring over space pianos. Where there's a beat it's monotonous and slow. After all this harmonic and overall friendly escapism, the CD ends up in a slap-bang exploding and frightening stream of digital noise with a computervoice proclaming a strange theory.
recorded @ wondervalley studio Cologne, 2005/2006
*startsample originally by rapoon
** recorded @ sondermann studio Cologne, 2001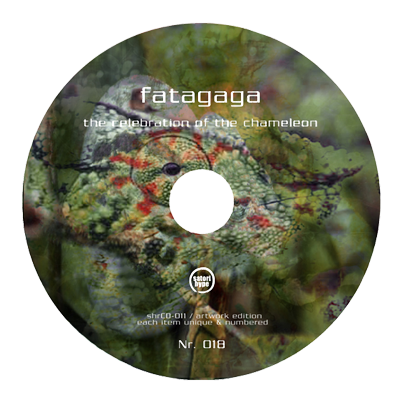 "the celebration of the chameleon" comes with beautiful artwork edition, the CD's skin changes chameleon-like: each item handmade, unique and numbered
——-
REVIEWS:
"Fine solo ambient, dark twiddling computer generated sounds. Tracks blend together. Heavy on the echo, goes with the genre. From Germany. Tempted to play several in a row late some night…" (read more @ zookeeper online)
——-
"… the concept album "The Celebration of the Chameleon" deals with fast technological developments which will rapidly change our world and/or replace biological evolution. The athmospheric CD contains 13 tracks with deep experimental/organic flavoured textures, effects and occasionally some slow beats. Well, listening and experiencing its content is a rather weird experience, as you never know what`s waiting for you on every new track. This is in-depth, slowly morphing and well produced music, but certainly not easy ambient. I can`t compare it with anything I know in this genre." (read @ www.e-ditionmag.com)
——-